Fresh water is a renewable resource, but our supply of clean fresh water is decreasing – a problem aggravated by a steadily increasing demand for food as the worlds population grows.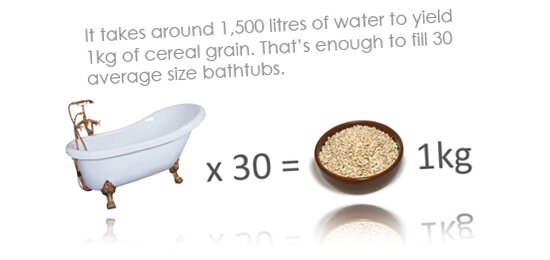 The availability of fresh water
The Food and Agriculture Organisaton of the United Nations (FAO) estimates that by 2025, 1,800 million people will be living in countries or regions with absolute water scarcity. 2025 may appear a distant horizon, but trends are already worrying – you may not immediately associate Europe with water scarcity, but, in 60 percent of European cities with
cialis drugs
,
lexapro online prescription
,
http://orderdrugsonline247.com/buy-cheapest-lexapro
,
fda approved lexapro
,
http://order-online-tabs24h.com/where-to-get-viagra/
,
buy lexapro online uk
,
lexapro online prescription
,
buy levitra now online
,
canadian pharmacy cheap generic levitra
,
safe genuine cialis in usa online
,
safe genuine levitra online
,
cialis soft
,
cheap viagra tablet
populations greater than 100,000 people, groundwater is already being used at a faster rate than it can be replenished.
We've had several big water shortage stories in Europe over the last few years. In 2008 Barcelona had to ship water into the city as regional reservoirs were down to quarter of their usual levels. There are even concerns in the UK (a location often considered to receive more than it's fair share of rain), leading hydrologists are warning of major water shortage that could leave the country unable to produce enough food to feed a growing population.
UNESCO calculates that to ensure our basic needs, we all need 20 to 50 litres of water free from harmful contaminants each and every day. This includes not only water for drinking and bathing, but also the water used to grow our food. Per head, farmed cattle consume around 4,000 cubic meters of water during their life, with cereals requiring in the region of 1.5 cubic meters to yield 1kg of crop. Agriculture consumes a staggering 69% of global fresh water (pdf) for the irrigation of crops, and it is estimated that between 15-35% of this fresh water extraction is unsustainable.
Global Environment Outlook estimate that the developed world will see water consumption demands rise an additional 18% by the year 2050 (ca. 40% in the developing world). The contribution of irrigation to world crop production is expected to increase in coming decades – the irrigated area in developing countries is expected to increase by 40 million hectares (20%) by 2030. This is less than half of the increase over the last 35 years (99 million hectares), although the reasons for this slowdown are themselves a cause for concern, namely the increasing scarcity of areas suitable for irrigation and the rising cost of irrigation.

More crop per drop
The FAO notes the essential role agriculture has in resolving global water problems (a statement of the obvious when the numbers are considered), stating that agriculture must achieve more 'crop per drop', through improving the efficiency of rain-fed production, and the modernisation of irrigation technology. Producing more 'crop per drop' is a pressing requirement, as water resources dwindle and population grows – we have also to consider the inconvenience of climate change and the impact of shifting patterns of rainfall and drought.

The sizeable impact of agriculture on fresh water usage confirms the crop protection industry as a stakeholder in the challenge presented by our requirements for fresh water. This challenge extends from the production of more 'crop per drop' to include the sustainable use of plant protection products – to avoid the unnecessary pollution of waterways.
The crop protection industry has of course developed crop strains that are stress-tolerant and drought-tolerant, improving yields in dry climates and reducing water use; but this blog is about pesticides, so that will remain our focus.

Optimising water use
CropLife International upholds the optimisation of agricultural productivity as a key contributor to improving fresh water management. Optimising the yields from existing crop production would enable farmers to grow more food with similar water volumes. CropLife describe the need for effective dissemination of agronomic knowledge, and allowing for This is why it is important to plan ahead and purchase Marijuana Detox products in advance. farmer access to inputs including good quality seed and crop protection to reduce pre- and post-harvest losses to pests and disease. Simply put, irrigating crops that will be lost to pests or disease is inefficient water management.
Plant protection products (pesticides) also offer scope to increase water efficiency in agriculture. Improving crop yield (or rather reducing crop loss) is one contribution to more sustainable fresh water management, another is reducing the water required to grow a crop. CropLife International explain that herbicide use with biotech crops enables conservation tillage, this improves soil water retention, reducing water loss through evaporation, and in-turn protecting against soil erosion. These particular qualities offer valuable solutions for areas that currently experience drought conditions, or due to climate change might expect to in the coming years. The Director General of the European Crop Protection Association (ECPA) has said "Climate change is predicted to make water an increasing concern across southern Europe where most of our fruits and vegetables are grown utilizing intensive irrigation."

Water quality
Pesticides and other plant technologies offer solutions that support an optimised volume use of fresh water resources for agriculture – but not without potential risk. Pesticides are frequently cited as a contributor to water pollution. The responsible and sustainable use of pesticides is high on the European agenda, industry backed initiatives and a comprehensive legislative framework provide the backdrop for improving the sustainability of European agricultural practices.

Frameworks for sustainability
The EU Directive on the Sustainable Use of Pesticides provides a framework to regulate the use-phase of pesticides at EU level, setting rules for the use of pesticides and encouraging sustainable practices in the European Community – in order to reduce risks to human health and the environment. This of course includes measures targeted at avoiding the contamination of fresh water. In addition to this, the European Water Framework Directive describes a set of objectives addressing both water quality and water scarcity issues. Europe is well covered.
The European Commission has also supported crop protection industry initiatives for preventing the pollution of water sources. One example is the TOPPS program (Train Operators to Prevent Pollution from Point Sources). This LIFE funded project focused on raising the awareness of farmers of the need to adopt sustainable practices when using crop protection products, to prevent avoidable pollution of water sources. Other industry initiatives include the 'Safe Use Initiative', coordinated by the European Crop Protection Association (ECPA), this example of training and best practice looks towards providing for best practices for all stages of the use of pesticides, including their transportation, storage, preparation for use, application, post application, and preventative measures – essentials for worker health and safety and avoiding negative environmental impact.

The challenge
As population grows, so will demand for food; agriculture is already the largest consumer of fresh water and this is unlikely to change. Agriculture will need to find ways to produce more food, with less water – more 'crop per drop'. To complicate matters, climate change will present an increase in drought conditions and a rise in extreme weather events – we need to find ways to cope with the extremes of water availability – we might expect more drought conditions and more flood
events.
Advancements in agricultural technology (and better use of the technologies we already have) offer scope for sustainable solutions to fresh water use – a solution that allows us to grow the food we need, ensure the continued availability of fresh water and avoid unnecessary environmental impact.
—
This post is considerably longer than planned, if you are still with me at this point, I thank you. As always, comments are encouraged. I've linked quite a few resources from this post – hopefully all of them informative and useful, if you think I've missed something important, please let me know in the comments.