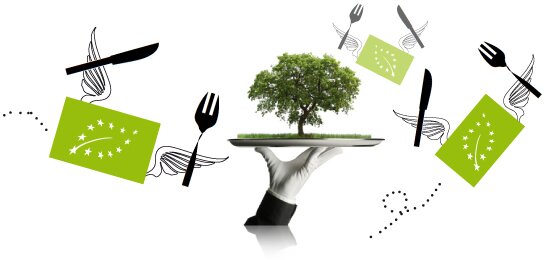 "Organic production contributes to a high level of biodiversity and the preservation of species and natural habitats."
A misleading statement, and part of the European Commission's official organic campaign. Organic production can in fact lead to the destruction of natural habitats; and a loss of habitats will usually result in a loss of species.
The 'preservation of natural habitats' is a common claim made in favour of organic agriculture; it is an argument put forward by organic enthusiasts who misunderstand the relationship between agriculture* and the European 'natural' environment.
Let's firstly consider the fact that Europe has little in the way of 'natural habitat'; centuries of extensive land use (mainly farming) have created a patchwork of cultural landscapes – a rich and diverse collection of habitats and species that we call the 'countryside'. Many of Europe's natural habitats are the direct or indirect result of human intervention – most notably – agricultural practices. Europe is essentially a very large – in places intensively managed – garden. When we venture outside of our urban spaces into the 'countryside', we are not entering 'wilderness' or 'virgin territory', what we see is diverse, beautiful and 'natural', but very much of our design.
The most serious threat to nature (without exception) is land use change that results in the loss of natural areas and precious habitats.
Biodiversity needs space to survive, areas for habitats that support the wildlife upon which agriculture relies. Europe uses around 40% of its land for agriculture, so it is not surprising that demand for agricultural land is cited as the single biggest contributor to biodiversity loss in Europe.
If the biggest threat to biodiversity is the loss of habitats to agricultural land, then perhaps the key focus for biodiversity conservation should be to support the implementation of modern agricultural practices that maximise output on the existing agricultural land base – in other words, to adopt farming practices that reduce the need for expanding farmland in to natural areas.
Fact: inefficient farming practices require more land to produce the same yield.
Fact: crop protection products (pesticides) improve crop yield per land area.
Pesticides can be harmful to biodiversity if overused or misused; but, they also provide a means to save biodiversity by making better use of existing agricultural land and therefore avoiding continued loss of natural habitats.
As populations continue to grow, demand for food rises, and so too do concerns about food security. Pesticides and other agricultural technologies offer solutions for sustainable agriculture and provide means for us to 'produce more, with less'. A trait of timely importance as today farmers are required to increase productivity and at the same time protect nature and biodiversity, all whilst making more efficient use of natural resources.
This is an incredible challenge, and whilst modern agricultural practices offer solutions, political and cultural barriers can inhibit progress. The tendency for certain political or interest group campaigns to uphold organic agriculture as the 'green' way, or the answer to our biodiversity conservation problems, is essentially counterproductive. Organic agriculture is an important facet of a necessarily diverse array of agricultural practices, but it is too hungry for land to be the only solution to halting the loss of biodiversity.
–
*This is the second in a series of posts we'll be making, examining the misleading nature of parts of the EC's organic campaign. We examine the campaign with crop production in mind – livestock and other agriculture is not considered.